Business
Long Term Game Networking with Long Term People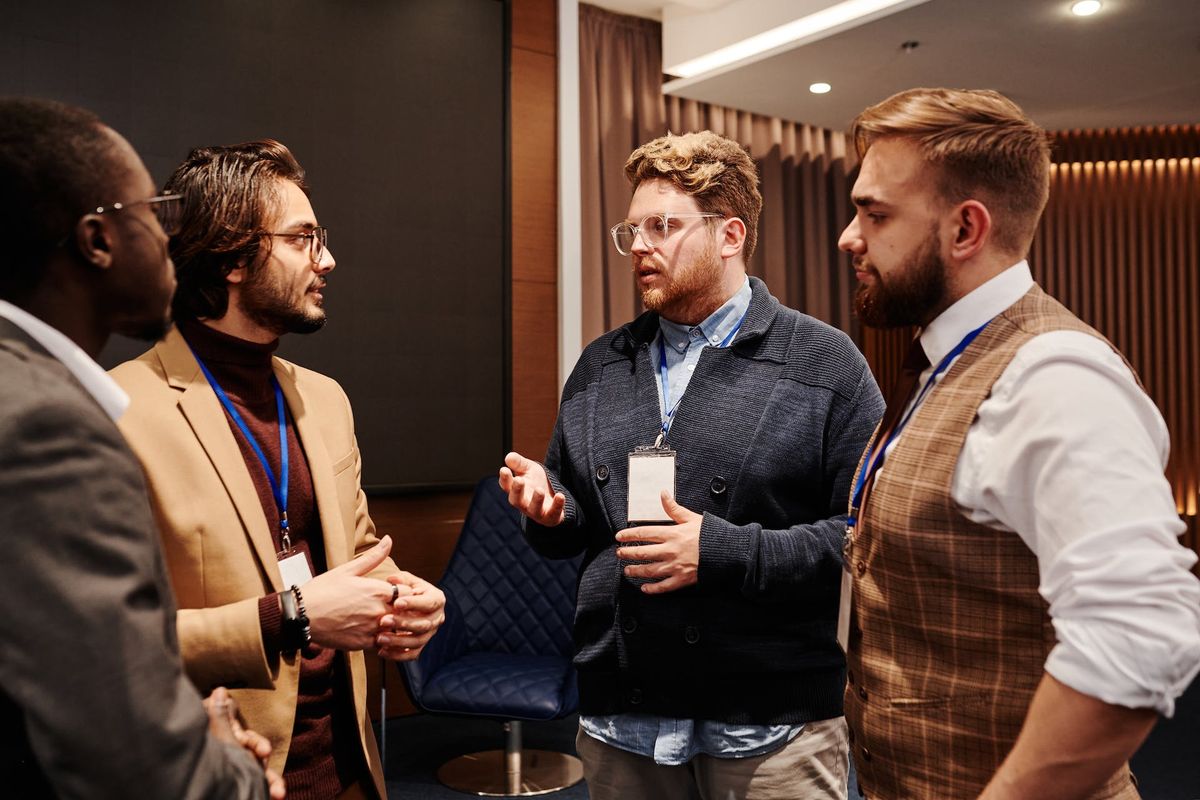 Recently I attended an Airmeet event Shifting Demand - Events, Community and People to create and capture demand, where Chris Belli (Senior VP, Studio Science) and Paul Kuhne (Senior VP, Litmus.io) discussed strategies for thriving in the new era of demand generation. Learning how to humanize demand generation and build long-term customer loyalty. One comment I wrote down formed the title of this newsletter "Long term game with long term people".
This phrase has so much relevance to business networking, client attraction & retention, talent attraction & retention and also for those building network communities focused on social-impact.
Business Networking
There is a huge false myth about what business networking actually is. Let's clear something up straight away, it is NOT in my book attending a networking event armed with a 100 business cards on a mission to distribute all 100* (to be considered successful), nor an elevator speech so rehearsed that you could have just sent someone else with your tape recording to play it back.
It is about listening with peripheral vision to what other's are saying in both group conversations & individually with you.
Let me give you an example. Last week I attended a local in person network group (on the invitation of someone I've known for six years). Eight of us were sitting around the table in the venue's foyer (locked out of their meeting room) having breakfast rolls before 7am!. As the only guest, I was asked to introduce myself last. Brilliant, as it gave me opportunity to listen let me repeat that listen to everyone else giving updates on their businesses. So when my time came I simply included a couple of the members by first name & how my Kick Ass Culture Business Coaching would have relevance to solving the issue they'd just described.
No I did not come away with a sale, nor had I intended to. I came away with an invite to come back for breakfast & the card of the host to give to a potential client (whom I'd first met 3 months ago to the day) that afternoon who may require his services. = Reciprocity is giving without the expectation of receiving back, so the gift is always given forwards.
"Long term game with long term people"
Oh, that day I'd arisen at 04:30 am to have a call with a new contact in Australia at 05:30 (in the car so I didn't wake my wife up) who wanted to get to know me (not my wife, she has known me for 44 years) with potential for him to introduce me to his contact in animal rescue.
I came away with offer to join them in their networking group call this Mon, where I'll be introduced. Luckily for me in UK it'll be at 8pm.
"Long term game with long term people"
Client Attraction & Retention
Whilst there are differences between how a Product & a Service business function see pic. Hint the words 'long term' are in there.
One thing they both have in common is the need to build long-term customer loyalty. To achieve this in addition to your skill at business networking you will also need to
Build a fantastic culture in your business based on your Purpose, Vision & Values.
Let me ask, how often have you walked into the foyer or branch of a company to be greeted by a huge poster of some meaningless mission statement. Why do I say meaningless? Because until your Mission statement has arisen out of your Purpose Vision & Values and unless everyone & I mean everyone from the CEO, Founder, Board, SMT(Senior Management Team) and all staff (both internal & external) can explain & walk your business Values to that person who has just walked in so they really really love & understand your business Culture. Then you stand the extremely high risk of your customers & your supply chain taking their business elsewhere!
"Long term game with long term people"
Talent attraction & retention
Not all networking is external to the business at meet-ups & so forth.
Your networking skills can also be relevant in how you network internally with your staff. If I presented you with this Engagement Drivers Wheel where would your business score in each category?
To help you increase your score & build your internal network then it is is essential to have Constructive Conversations, with your Board, your SMT & your teams. Hint: your employees are your first customers.
Imagine, no don't imagine, create Strategies for the future when you're attracting & retaining great talent & customers. A future when you increase your efficiency & profits, by reducing the huge cost of attracting new talent & customers. A future when you add Value to your business for investment or exit.
How are you networking internally with all your people?
"Long term game with long term people"
Network Communities focused on Social-Impact
Reboundog is a fantastic example of "Long term game with long term people"
When I founded it 3 years ago, I did so with the idea of bringing together pet advocates together globally to collaborate on innovative & disruptive projects to impact the wicked societal problem of animal welfare rescue.
'What is a Social-Impact Network?' 'What's in it for me, aka how many of your members & their customers will buy my pet services etc., etc.?'
We've evolved & settled down as all businesses do with a core of long term people, some of whom are awesome founding members still with us from the very beginning. Those who've left tended to be ordinary pet services who wanted more customers without reciprocity.
A few months ago I required due diligence on a US business proposition about which I'd been approached. I smelt a rat when the Lear Jet in the photo still had protective covers on the seats! So I asked a member who sourced it the next day for me whilst flying home across the US from a conference. Saved me time, money & embarrassment from entering into a deal that wasn't in sync with Reboundog's Values of Connect, Curious & Transparent.
We've evolved into members collaborating on their own projects, with for example supporting each other from proof reading for courses, to writing chapters for books, to guesting on each others' podcasts & at another's conferences.
We've evolved into hosting monthly Reboundog Sofa Meet-ups with a full calendar of guests in conversations.
My fourth networking of that day was online globally with Reboundog members & guest where.....
We're evolving into collaborating on an 'educational project' which will disrupt animal welfare rescue with Reboundog members potentially being the exclusive supplier of it's educational material.
"Long term game with long term people"
*I don't even have one printed business card & for those like me you can create a QR code from your LinkedIn Profile on your phone.
click Search at the top next to your pic
click the Icon at top right of search bar